Other Memories & Stories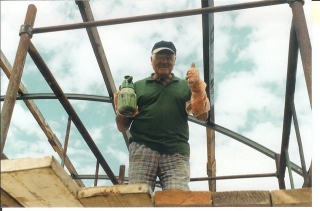 Brian Ward
Story written by Brian Ward – who is helping us with the restoration work at the Tower.
I was born at Debach in February, 1929 in a cottage which in 1943 looked across the Airfield in line with the Control Tower.
In 1944 I visited an aunt in Hillside Cottage, Clopton and spent much time visiting the aircrew Nissan huts below Hillside.
In 1945 as a member of the 432 ATC squadron at Woodbridge I was lucky to visit, in uniform, the Control Tower and was welcomed by the USAF and had a total of 5 flights with the squadron.
On June 10th, 1945 I was offered a flight to a 'promotion party! at Thorpe Abbotts in Norfolk. At first we got into a Cessna but due to some fault we transferred to a B17.
A good trip to Thorpe and a nice meal in the Officers Mess before leaving for Debach – it was overcast and raining – only two USAF officers – no navigator – so for 'convenience' the pilot flew to the coast near Yarmouth, came down to the river Deben, turned right and came to Debach.
Flares were used as the visibility was far from good. We had a safe landing BUT disaster was looming – outside the Control Tower was my Father, cycle leaning against the wall – waiting to find out where his errant son had been all day!!!!
"You will never come here again – go home at once" he said.
However, I did go again and my next flight was on the 16th June. My flight record shows that the pilot on that super trip to Thorpe Abbotts was called Fitzgerald. One of the veterans at the Open Day last year was looking at my flight records and said, "you were privileged – he was the Squadron Commander.
What an honour for a 16 year old cadet.
Brian Ward
An account of the 'Wonga Wonga' crash told by Eddie Mortimer.
Eddie is a Volunteer at the 493rd Bomb Group Museum.
Reference B17 4-2 – 31150 "Wonga Wonga"
This aircraft landed in a field in Clopton and collided with a nissen hut on site 1 in February 1944.
Eddie Mortimer remembers ……
"I can remember this aircraft landing in a field with its nose up against a nissen hut.
My older brother, Ron and I climbed into the plane and sat in the cockpit. I sat in the pilot's seat and my brother in the co-pilot's seat. We pretended to be flying the aircraft! (As little boys do!).
The aircraft wasn't there for very long as it was cut up and taken away on trucks and trailers.
My brother can remember seeing the skid marks across the field, coming from the direction of the sewage works. It must have pulled up in a remarkably short distance!
At the time I was five and a half years old and my brother was nearly seven".
---
Mrs Vera Wood (nee Barrett)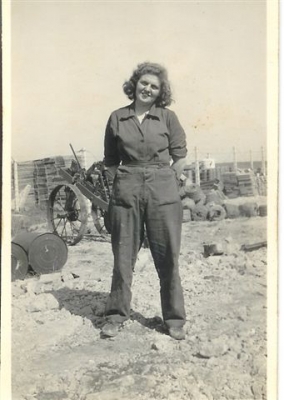 Vera Wood
Vera was originally from Wandsworth near London. As a young woman, she trained as an electrical overhead linesman (fixing wires between the poles to supply electricity to airfields). There were 10 ladies in her training group and they were split up into pairs on completion of their training and were then sent to different airfields around the country. Vera and her friend, Yvonne Hills, were originally sent to RAF Wittering in Lincolnshire but in 1943 they were transferred to Debach. At the time they were to be the only females on the base. Their job description was maintenance electricians and their duties included fitting lights to overhead poles and installing runway lights. Vera told us that this group of women were the last group to be asked to do this job as it was extremely hard work and the only aid to get to the top of the poles was a ladder!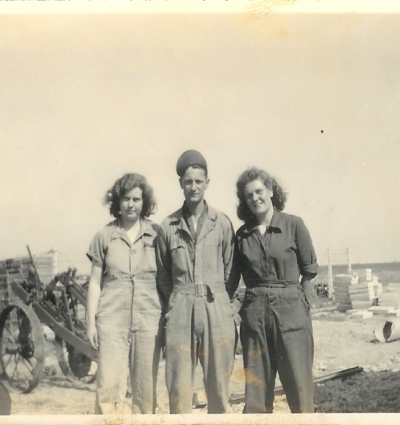 Vera's friend Yvonne had met her future husband Les Henson when she was at Wittering – he was on the working gang there. They married just before the two girls were sent to Debach.
Vera told us that the social life at Debach was quite simple – either cycling to one of the local pubs or perhaps a cycle ride into Woodbridge or Ipswich. Neither of these towns were that near. The Americans had a cinema on base and of course they were not rationed as were the British, so they had a better selection of food and clothes. Vera added, these little luxuries were not shared out to the civilians on base!
During her first year at Debach, Vera met up with Donald Wood. He was in charge of all the boilers and general maintenance on the base. After 6 years, the couple married in 1949, at the Congregational Church, Crown Street, Ipswich.
Donald Wood owned a motorbike and we asked if Vera ever rode on it. Yes, she said but only as a passenger and I only fell off it once!
When the Americans left the base, Vera and her husband stayed on. They were to witness a massive change from the 8th Army Air force to the Displaced Persons and Prisoners of War. Vera said these people were always very kind and courteous. Vera then presented to us two paintings that were currently hanging on her living room wall. These paintings, she said, were painted by one of the P.O.W.s she knew. Vera has already donated many things that are currently displayed at the museum, including tools that Donald had used and a lighter made of aluminium, by one of the prisoners, engraved with Donald's initials and the word Debach on the side. The paintings will now join these items on display at the museum.
By this time Vera and Donald had their own living quarters on base and they were the last civilians living there. Vera had a new job working for the Ministry of Supply.
Vera and another colleague, Beattie King, were responsible for the office equipment and the sale of goods off the airfield. They would put together the catalogues for the sales and dealt with all the paper work that went with it.
When the airfield was completely shut down, Vera and Donald Wood moved to Otley. Sadly, Donald has passed away but as I sit writing this piece (February 2011) Vera is still living in Otley but as she told me recently, thinks it is time for a move nearer to where her daughter lives.
---