"The Last but the Best"
Debach was one of the last 8th Air Force heavy bomber stations to be occupied by the American 8th Army Air Force.
Debach is situated 3 miles north-west of Woodbridge with some of the sites located in the adjoining village of Burgh. The pronunciation of Debach was always a problem for uninitiated Americans, who invariably referred to "Dee-bark" – locals have always pronounced it as "Deb-idge".
This site, hopefully, illustrates to you the history of the 493rd Bomb Group, the restoration of the airfield and memories of the brave men who served here.
The museum has now closed for the winter period. Please book your visits for next year.
Entrance free - but donations are appreciated
Ample parking
Group visits welcomed - by appointment
Museum Openings
Sunday Open Days
The Control Tower Museum will be open 11:00am to 4:00pm on the last Sundays in the months of...
April

Cancelled

May
June
July
August
September
Additional Opening Times
During the 'Open Season' Wednesdays 11.00am to 3.00pm.
Please use Drabbs Lane entrance.
Contact us before you arrive as this is a working day at the Museum.
Please note - the museum site has limited facilities for people with disabilities - wheelchair access to the Home Front building, the Nissen building, the Fire Station, the lower floor of the Control Tower, the Visitor's Centre and a specified washroom with wheelchair access.
Group visits
We can cater for groups of any size and age (
children must be accompanied by suitable ratio of adults
).
If you would like to arrange a visit,
please contact us on 07850 078432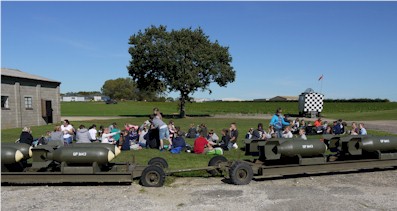 Kyson Primary School visit 2018
Open Day 2019
Fighting 493rd BG Association

The 493rd BG Museum at Debach is proud to be associated with the "Fighting 493rd BG Association" in the U.S.A.