The Jeeps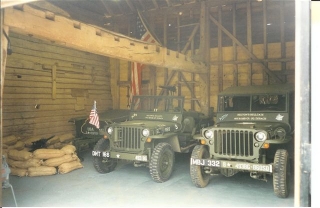 The Jeeps
In 1960 the farm purchased a Willys Jeep at a local auction costing sixteen pounds.
The jeep was used to carry 35-foot long aluminium irrigation pipes. We grow potatoes and moving the pipes by tractor and trailer was difficult because of the length of the tractor and trailer. The answer was to fix a pipe carrying frame on the front and rear bumpers. About 30 pipes could be carried at once and this worked very well.
A second Jeep, a Ford, was purchased at a farm sale for twenty three pounds. This jeep did not run as the head gasket had blown but it was a very complete and original Ford jeep, fitted with a coach build body made with wooden frame covered with aluminium sheet - beautifully made. This jeep was to used for spares to keep the Willys running.
The Willys jeep was retired from carrying pipes after about 3 years. It was then used for rabbit shooting at night and when it was worn out the ford jeep was fitted with the Willys engine and used for rabbit shooting.
I had been planning to restore one of the jeeps for 15 years and in 1989 one jeep was restored using the best parts from both jeeps. After attending a classic car treasure hunt I met up with other military vehicle owners, they gave me the motivation to restore the Ford jeep to its original condition. The ford body tub was very rusty many new panels had to be made and the floor and rear wheel arches replaced. The engine, gear box, transfer box and axels were all stripped down and restored. It was a complete nut and bolt restoration. All parts were sand blasted and painted individually and the painted again after assembly this was completed in 1996.